Need to get rid of bed bugs? Phoenix Bed Bug Expert offers guaranteed bed bug treatment and extermination. Our treatments come with up to a one year warranty.
We have been in the bed bug industry for 6+ years and have helped thousands of Valley residents get rid of their bed bugs through our guaranteed treatments.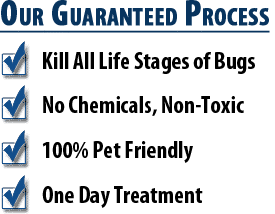 If you suspect bed bugs are in your home, give us a call to schedule an in-home bed bug inspection where we will thoroughly inspect your home where bed bugs are often found.
If bed bugs are found in your residence, we will let you know exactly what you're dealing with, how many rooms they've spread to, and then go over the different treatment options and pricing with you.
Bed Bug Treatment Options
There are two ways you can get rid of bed bugs – through a heat treatment or a chemical/pesticide treatment. Both of these treatment options are 100% effective. A bed bug heat treatment is the best treatment if you would like instant, same-day relief on the day we treat. Below is more information about our two treatment options.
Bed Bug Heat Treatment
A bed bug heat treatment will kill all bed bugs and eggs in 8 hours or less with just one treatment. This will instantly get rid of any bed bug infestation and stop all bites on the day we treat
We always treat the entire structure to ensure complete eradication. Each room is heated to 150 degrees. Heat penetrates all hiding spots and will kill any bed bugs and eggs without damaging your furniture or personal items
1-Year Warranty – we guarantee our bed bug heat treatments for one year. If you see a bed bug during your warranty period, we retreat free of charge
Bed Bug Pesticide / Chemical Spray
A bed bug pesticide/chemical spray can take up to 30 days to eliminate an entire bed bug infestation. This is because every bed bug (including unhatched eggs) must come in contact with our pesticide. Only one treatment necessary
Pesticides do not kill the eggs and cannot get to all of the areas like a heat treatment can. Because of this you may see bed bugs and get bites during the 30 day period
Up to a 6 Month Warranty – if your bed bugs problem remains after 30 days, additional treatment is performed free of charge during your warranty period
If you would like to get a free estimate for our bed bug treatment options, give us a call at (480) 351-6377. We also offer bed bug inspections to determine if you have bed bugs and provide an exact cost for treatment after inspecting all rooms and living areas.
Our Services Are 100% Guaranteed with Up to a 1-Year Warranty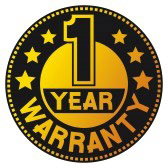 We are the experts at exterminating bed bugs. With over 6 years of experience and a 100% success rate, we offer 1-year warranties with our treatments. This means if any bed bugs arise during your warranty period, we will come back out to your house free of charge to re-treat.
You can always count on excellent customer service, and you can find many of customer reviews around the web on our Customer Testimonials page.
We are committed to providing efficient bed bug removal and bed bug extermination services to Mesa as well as the rest of the Phoenix-metropolitan area. We've serviced homes in Glendale, Peoria, Chandler, Scottsdale, Mesa, Tempe, and many other surrounding areas.
Get Rid of Your Bed Bugs Once and For All –
100% Guaranteed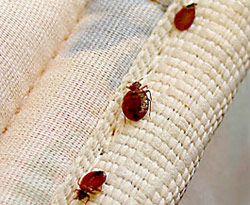 Bed bugs are a challenging and formidable pest to control.
Due to the flatness and small size of a bed bug, it allows them to easily hide in just about any crevice.
When we inspect houses, we go through a whole list of bed bug "hiding areas". Mattresses, bed frames, couches, dressers, carpet, electrical outlets, and baseboards are just a start of where bed bugs often hide.
You can usually find bed bugs along the seams of mattresses, or inside box springs. Their fecal matter (brown to black stains) can often be found in those areas as well.
Because bed bugs can easily hide in many places (any small crevice), thorough and professional treatments are recommended to fully get rid of your bed bugs.
The longer you put off getting your house treated, the more time bed bugs have to spread into your entire home. A healthy, blood-fed female bed bug can produce from 200-500 healthy eggs during her lifetime and may lay from 2-5 eggs each day.
Bed Bugs Can Come From Anywhere – Call (480) 351-6377
It's not uncommon for many people to feel embarrassed when they get bed bugs. But there's no need to be embarrassed. Bed bugs are a HUGE problem in Arizona, and you can get them from anywhere:
Hotels/Motels – Even the nicest hotels get bed bugs (we treat them!)
Public Transportation
Thrift Store or Used Furniture – Be careful bringing used furniture into your home
Houseguests and Visitors – Bed bugs often brought in on luggage and clothes
Anywhere with people – You can get bed bugs from just about anywhere, and all it takes is one
Request a Free Estimate Online or Give Us a Call Now at (480) 351-6377
Mesa Bed Bug Furniture Removal & Mattress Disposal
Did you know we can also dispose of furniture containing bed bug spotting/feces? We provide furniture removal and mattress disposal for all bed bug infested items. Learn more about our furniture removal and mattress disposal service…
"Alex was so amazing and took time to educate and reassure me about these bugs and the treatment. I would highly recommended this company to others. What is so reassuring is that they back their work with a warranty to come back if another treatment is needed."

Rating:5 of 5
Sincerely, Carla H.